For someone who has never been on a production site, it seems pretty simple. When watching a completed product — be that a TV show or a live sports event — we rarely imagine what happens behind the scenes. But before the pilot episode rolls out, or before that live stream begins, dozens of people work long hours to make it happen. Drafting scripts, inviting guests, making edits, aligning cameras, making sure everyone is on the same page,… the list goes on. However, significant changes are underway, and the world of television production is shifting gears! And innovative tools like Cuez are the ones driving this change.
At Cuez, we take pride in providing ground-breaking solutions to TV productions that simplify workflows, foster collaboration, and improve productivity. Recently, we had an exclusive opportunity to visit the production site of the beloved Belgian TV show 'Switch,' produced by VRT, where the Cuez platform played a pivotal role in transforming the show production process. In this article, we delve into our behind-the-scenes experience, exploring how Cuez facilitated a smoother, more efficient production and strengthened our longstanding relationship with VRT.
Building a Trust Relationship with VRT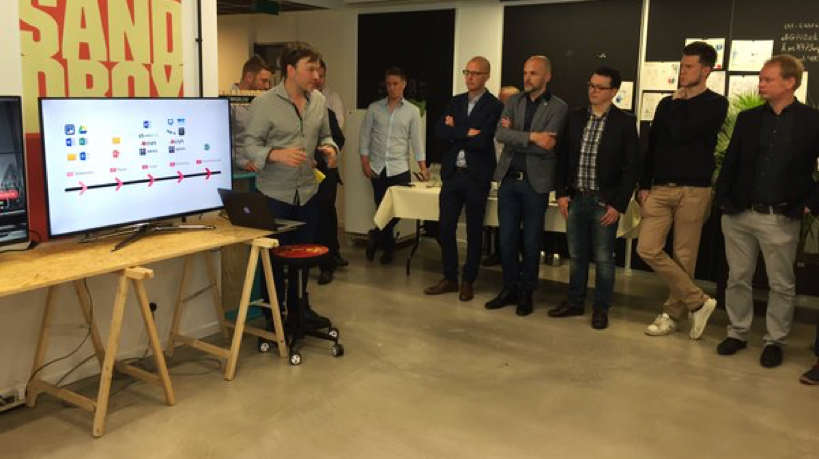 Our journey with VRT started way back in 2017 when we became part of their innovative start-up accelerator programme VRT Sandbox, which helped us scale up in the EU market of broadcast and media entertainment tremendously. VRT also became our first major enterprise client, having entrusted us with optimising their production of news and TV shows.
As a director, I don't have to do any double work. It is clear in one blink of an eye. They make the software customised for you so everything you need is there and nothing more.

Sophie Devadder, Multicam Director, VRT
Over the years, we have established a strong partnership, based on mutual trust and rapport. We have been working closely with VRT to understand their unique needs and challenges. Through open communication and continuous improvement, we have been able to, first, tailor TinkerList and, later, Cuez to meet the specific requirements of their production for multiple media formats. This trust relationship laid the foundation for the success we witnessed during our visit to 'Switch' production.
How Did Cuez Help Create 'Switch'?
Simplified Workflow
One of the key advantages of Cuez is its ability to simplify complex workflows and tasks, that are usually extremely time-consuming through Automation. Cuez streamlines the production process from start to finish. During our visit, we witnessed firsthand how Cuez Automation helped the crew effortlessly manage multiple tasks simultaneously. From seamless camera transitions and efficient on-site coordination to the graphics timely popping up on the screen.
Prior to the shooting day, using the intuitive interface, the production team quickly scheduled tasks, assigned roles, and tracked the progress of the production. Thus, Cuez eliminated the need for cumbersome spreadsheets and manual coordination of mundane tasks. With more valuable time on their hands, the creative team could focus on what they do best. As a result, because administrative tasks were significantly reduced, the crew could focus on making the most out of the shooting day. With minimal retakes, the shooting was completed not only thanks to the team's level of professionalism but also by virtue of the Cuez platform.
When I reflect on how we worked before Cuez, this was really old-fashioned. Finally, we are making television like we should in the 21st century. Now we are using Cuez from the start of an idea until recording in the studio. If you imagine how unwieldy we worked before, with Cuez, we took 17 steps ahead!

Bart Cannaerts, Showrunner Switch
Automated Production
Executing any TV show requires not only thorough planning but also flawless execution. Cuez played a central role in ensuring that every take of 'Switch' ran smoothly, leaving little room for error. The number of retakes was limited to just a few because of the team's professionalism as well as because many processes were automated by Cuez. The platform enabled the whole crew to access and collaborate simultaneously on the essential production details like script, shot lists, and production notes, at any moment during the production. With this seamless access to information, the production team could address any challenge at hand, make adjustments on the fly, and maintain a cohesive vision throughout filming. We were impressed at how smoothly the team employed Cuez's Automator and enhanced the entire execution process by reducing technical complexities.
Enhanced Productivity through Automation
During our visit, we witnessed the tangible impact of Cuez on the team's overall productivity. At the heart of Cuez lies the aim to boost productivity within TV production. We believe it's time the industry adopts the new production standards where we no longer sacrifice valuable time for technicalities. 'Switch' is among many who adopted the new and improved way of production with Cuez. During our visit to the production site, we witnessed firsthand the tangible impact Cuez had on the team's productivity. Through automation of the production and routine tasks, real-time updates, and streamlined workflows, Cuez empowered the team to work smarter, not harder. Automation increased efficiency and allowed for better time management, ultimately resulting in higher-quality output.
As a fast-paced show, 'Switch' required effective collaboration in order to ensure that the end product is ready in time. Because each episode included many complex elements, it was pivotal for the team to communicate and collaborate efficiently. Not a single second could be wasted! We observed in the gallery, as well as on-site, how Cuez acted as a catalyst. It brought together different crew members and fostered a more collaborative environment. Through its centralised platform, the entire crew, from director to production assistant, communicated and shared last-minute updates, and feedback in real-time. That enabled swift decision-making and eliminated the risk of miscommunication. That ensured that everyone involved remained on the same page throughout the entire production process.
Our visit to the production site of 'Switch' confirmed: we are on the right path. It highlighted the invaluable role the Cuez platform plays in revolutionising TV production and the media industry in its entirety. Through simplified workflows, improved collaboration, and seamless execution, our platform has become an essential tool for VRT's many different projects. As we continue to strengthen our partnership with VRT and expand our reach, we remain committed to providing innovative solutions that reduce technicalities and empower creativity to produce captivating content.
---